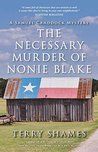 The Necessary Murder of Nonie Blake by Terry Shames
My rating: 5 of 5 stars
Samuel Craddock is an older man, a widower, who is chief of police in a small Texas town. A young woman, Nonie Blake, is found floating in a pond behind her parent's house, just a few weeks after her release from a twenty year stay in a mental hospital.
It doesn't take long for Craddock to figure out Nonie didn't die by accident, and he sets out, in a slow, methodical way, to discover who killed her, and why. His neighbor, Loretta, brings him fresh baked goods every morning and keeps him informed on all the rumors and gossip circulating through town about Nonie Blake's strange family.
The deeper Craddock digs, the more lies he uncovers, until it seems any one of her five family members could have murdered Nonie. Maybe they all know the truth and have closed ranks to protect one of their own.
Midway in the investigation, the state sends Craddock a young, hispanic, female deputy, courtesy of an affirmative action grant Sam Craddock never requested or expected. She stirs things up and helps him solve the case.
This is a "cozy" mystery, there is very little violence, no sex or crude language. My interest was held in trying to decipher the puzzle, as Craddock uncovered clues and interviewed suspects.
When I picked this book up I didn't know it was the 5th book in the "Samuel Craddock" series. That didn't keep me from enjoying the story, and I'm thinking now I'll have to pick up the first one, A killing at Cotton Hill.